May 19, 2019
moinschool update, May 2019
Dear community, it has been a while since our last update about moinschool . In fact, it was beginning this year, if I am not wrong. Of course, this is too long, and we will improve our efforts to present you the newest updates. But let me assure you that we have been very busy in the meantime. A lot has happened, and I am happy to give you a little overview of the things what we accomplished, what we plan for the future and how you can support us.
To tell you the whole story, let us recapture for a moment what moinschool is and how it came to live. It all started in the early months of 2018. A group of volunteers from the moinworld community had the idea, to expand the efforts to reach out to girls in high school. We thought that it makes sense to teach programming to young girls and to show them that it is a lot of fun and not just a boy's thing. After a while, we managed to find a school that was willing to cooperate with us. So we were super motivated and ready to start our first school semester at the Reformschule Winterhude. We had a packed program including programming, design thinking, field trips, team building, and unconscious bias workshops. And it was a lot of work for us too. We finished that course in January this year and we were very happy with the results. Of course, it wasn't perfect and not everything worked according to our plan. But we learned a lot and the girls had a lot of fun learning all those things, meeting women from the industry and visiting the creative space at the HAW Hamburg.
After we were done with that semester, we started again a new course at a new school. This time, we expanded our team with some new tutors, Wendi and Pelin, and also had a few new supporters, Alexander and Lobana. This time we had a bit less time, so we focused on creating a website and teaching the basics of HTML and CSS. The girls paired up by two and created their own little website. Because the school is very focused on sports, many girls choose to create a website about their favorite sport. Lesson by lesson, they learned new HTML commands and possibilities. They started to design everything with CSS in many colors and shapes. In the end, each group presented their website to the others and explained a little bit about what they had learned.
To complete the course, we had a field trip to the HAW Hamburg, where we visited the creative space. The visit started with a presentation about computer science and how it affects us all in our daily life. The next part was a little programming game, in which the girls had to control a little robot to reach its goal. The final part was about AR and VR. Some topics that we all hear and read so much about. First was AR. We got some smartphones, that were prepared with a special app. When you pointed the camera at a specific image of a fish, the fish virtually came to life and you could see it moving over the image. An application that could be used in a museum, to provide a more interactive experience. The second part was VR, here the girls got to try some VR headsets to dive into a virtual world. Because it is so easy to lose touch to the actual surrounding reality, people started to move very funnily and were scared of highs and objects, that were not actually there. Everyone laughed a lot, and some girls asked if they could even make their internship at the creative space.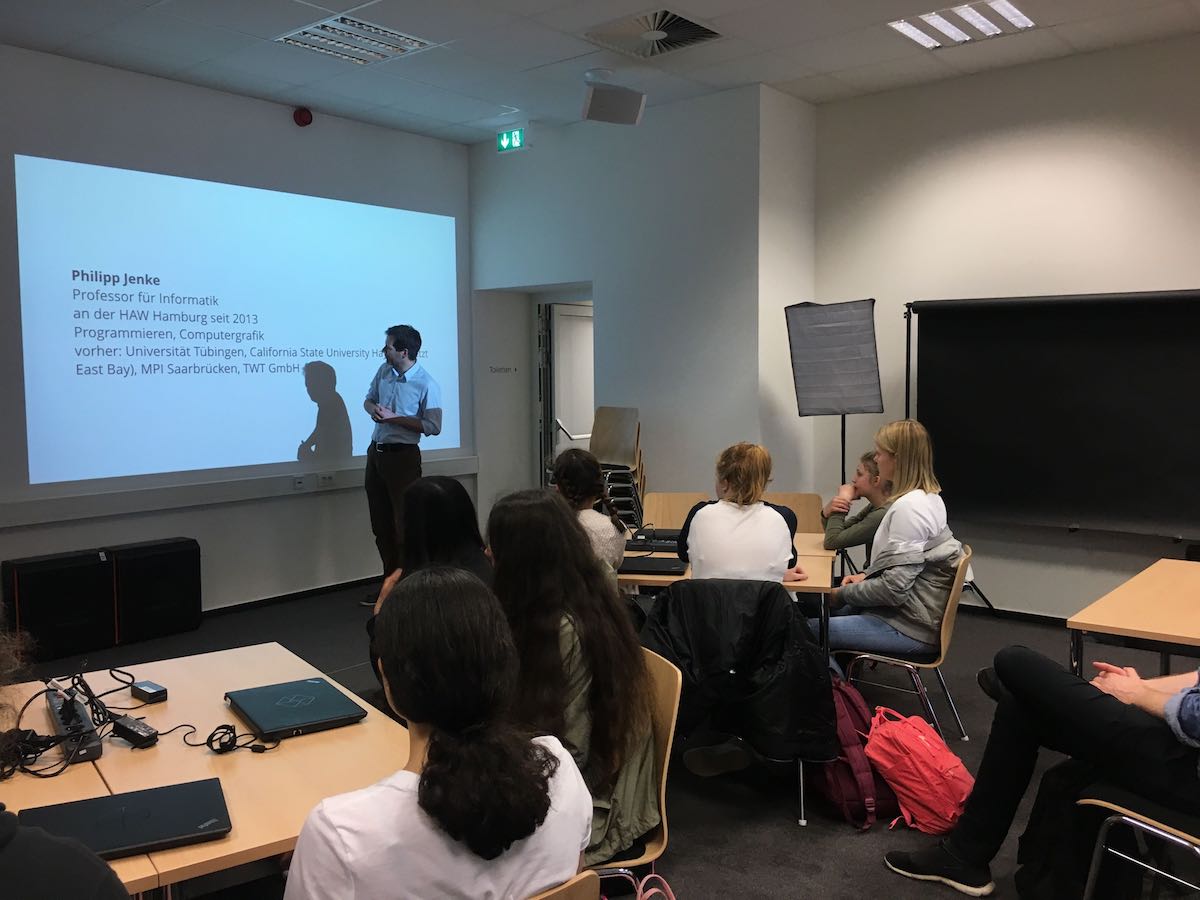 Now after this, we are all ready to enjoy our summer vacations. But we will also start planning the future of moinschool soon. The schools are very happy with our program and are asking us to continue it. Of course, we also want to continue the project, but as you can imagine, it is a lot of work and we need your help. We are looking for tutors, project managers, blog writers, etc. If you would like to support us, please contact us at moin@moinworld.de or talk to us on one of the moinworld events which you can find here.
Florian Bauer
(aus dem englischen übersetzt)