June 8, 2020
moinworld's virtual event series - in times of social distancing this time presenting Airbus
On June 4th, we met the community online again. This time, we were looking forward to meeting the team of Airbus to get insights into how the company and especially the IT department was managing during the crisis.
We had two talks planned for the evening - one by Lenneke Alves-Bakker who is Head of Change and Adoption Digital Workplace and one by Camille Levesque, Marketing Manager at the Airbus Protospace Hamburg. Lennekes digital workplace team ensured that the sudden switch to remote work went smoothly and she shared the story of how she and her team managed the change. Camille took us on a virtual tour through the protospace which is the innovation lab within airbus and explained how Airbus protospaces were helping hospitals around the world during the corona crisis.
47 Meetup participants registered at the beginning and when we finished our online session one and a half hours later, almost all of them were still there, actively participating in the chat and asking questions.
How the crisis excellerated an internal IT transformation process
When the crisis arrived, Lenneke's team was in the middle of a transformation process, moving work streams away from Microsoft products like Outlook, Word and Excel to Google's G Suite products like Drive, Docs and Slides. As for G Suite VPN access was not necessary, suddenly more people wanted to connect to G Suite faster to be able to continue working from home and the crisis led to a huge acceleration of the transformation process. Lenneke's small team worked closely together with the business to manage all change activities, so volunteers from business teams were helping others as Champions and Transformers to make the switch from Office to G Suite.
Inside Airbus innovation labs and their role during the crisis
Then Camille took us on a virtual tour and shared with us how the 19 Airbus protospaces around the world have helped hospitals in fighting the virus. The first step was to understand hospitals' needs, she explained, then the second step was a company wide call for volunteers to join a hackathon to generate ideas. Some of these ideas were realized and then delivered to hospitals. Among them were intubation boxes, face shields or transformed snorkel masks as you can see in the picture below.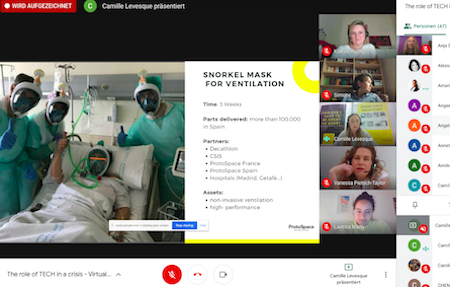 Q & A and how the crisis is changing airplane travel
After these engaging talks, our lively Q&A session started. It was especially interesting to hear how the crisis really is pushing technologies forward. The entire airplane travel journey is in focus at the moment to make airplane travel safe again. We heard that there are many solutions being developed at the moment - some of them in realisation phase already, depending on the Airlines to be integrated. A promising idea could be robots killing bacteria with UV light, for example. We might not be so far away from getting a complete health check at the security gate in the future, either. This Meetup made clear to all of us that crises breed genuine innovation and that technologies are the key to managing them today.
We are looking forward to our next meetup! If you are interested in our next events check out our events page!