March 22, 2019
Our first community event with Airbus March 15th, 2019
Last Friday, we had the pleasure of hosting our first ever meet-up at the ZAL Centre of Aeronautical Research in Hamburg together with our new partner Airbus. Despite the stormy weather, we had a packed out room full of fellow Women Techmakers who were eager to hear inspirational stories and network.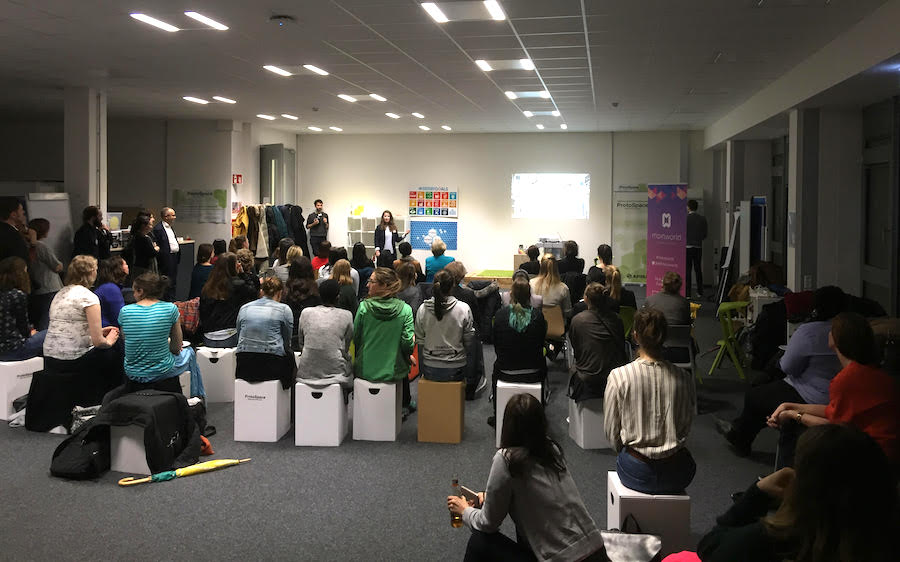 Networking and guided tour through the Airbus Protospace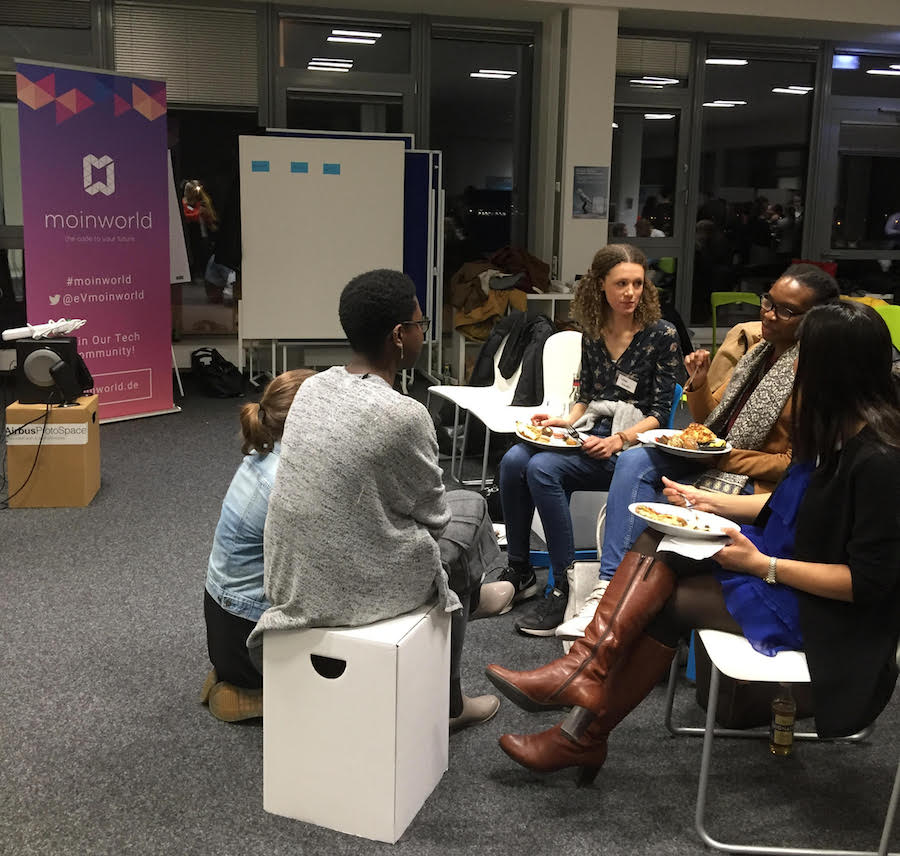 The evening kicked off with introductions and a welcome speech from our Airbus team which was followed shortly after by a guided tour of the Airbus ProtoSpace. From checking out machinery, workshops and showrooms, this was a fascinating insight into how Airbus are using the latest technology to drive innovation and develop ever smarter, more efficient and better aligned systems and products. At one stop, we were able to quiz an engineer on the project presented and gain a first hand insight into working at Airbus.
Head of Industrial Digitalisation - Sine Sprätz
After our tour, the presentations on Industrial Digitalisation began: first up was Sine Sprätz. Sine has an impressive background: after beginning her career at Airbus as a working student, she has progressed in only six years to become the Head of Digital Industrialisation. During that time, she gathered holistic experience across areas including quality conformance, flight test management, engineering and manufacturing, which prove invaluable in her current position that focuses on managing the impact of arguably the biggest change ever to happen to Airbus in decades. Sine's presentation focussed on how digitalisation can be managed positively and to the advantage of the business and employee. She emphasised that you '…should never forget the why?'- wise words, in an age where it is often overseen that digitalisation should be bringing some form of value to our professional and private lives, thus regularly revisiting and challenging the original goal ensure that digital development stays on track.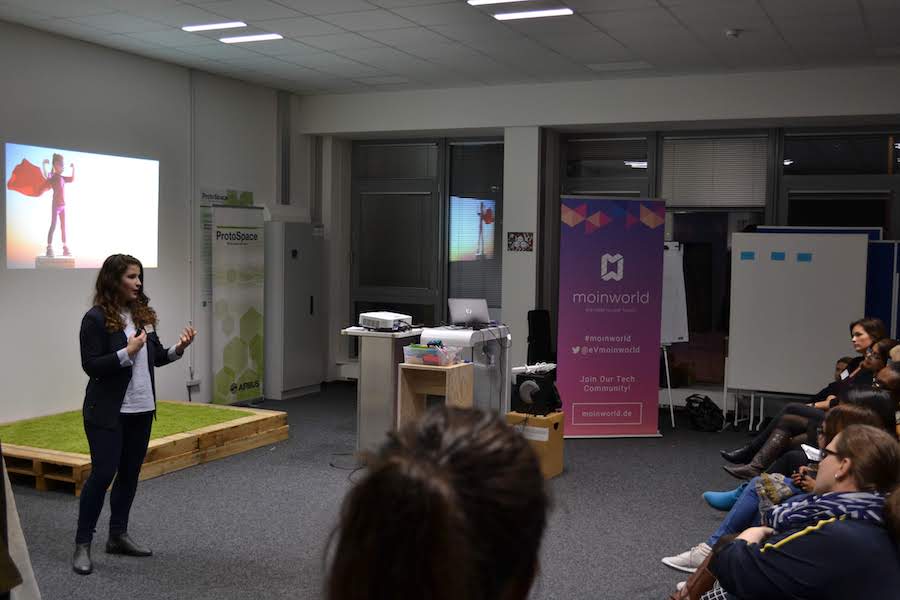 Head of Flight Physics Capability Operations - Alessandra Stanghini
Following this was a talk by Alessandra Stanghini, Head of Flight Physics Capability Operations at Airbus. She described her early days of starting out in software engineering as one of the few women on her university course (there were no ladie's toilets in the engineering department) then described how she moved to Germany and began her career at Airbus. Despite being very pro-diversity herself, Alessandra acknowledged that often she receives only responses from male applicants when a job opportunity for a software engineer role is published. Stressing that IT is a huge field (it's not just software engineering), Alessandra was keen to highlight there are a huge range of opportunities and that Airbus is always on the look-out for technically qualified staff across all disciplines to help them to leverage digital technologies to optimise processes. If subjects like Big Data interest you, check out how Airbus are investing in ways to optimise cost and time-saving efficiency.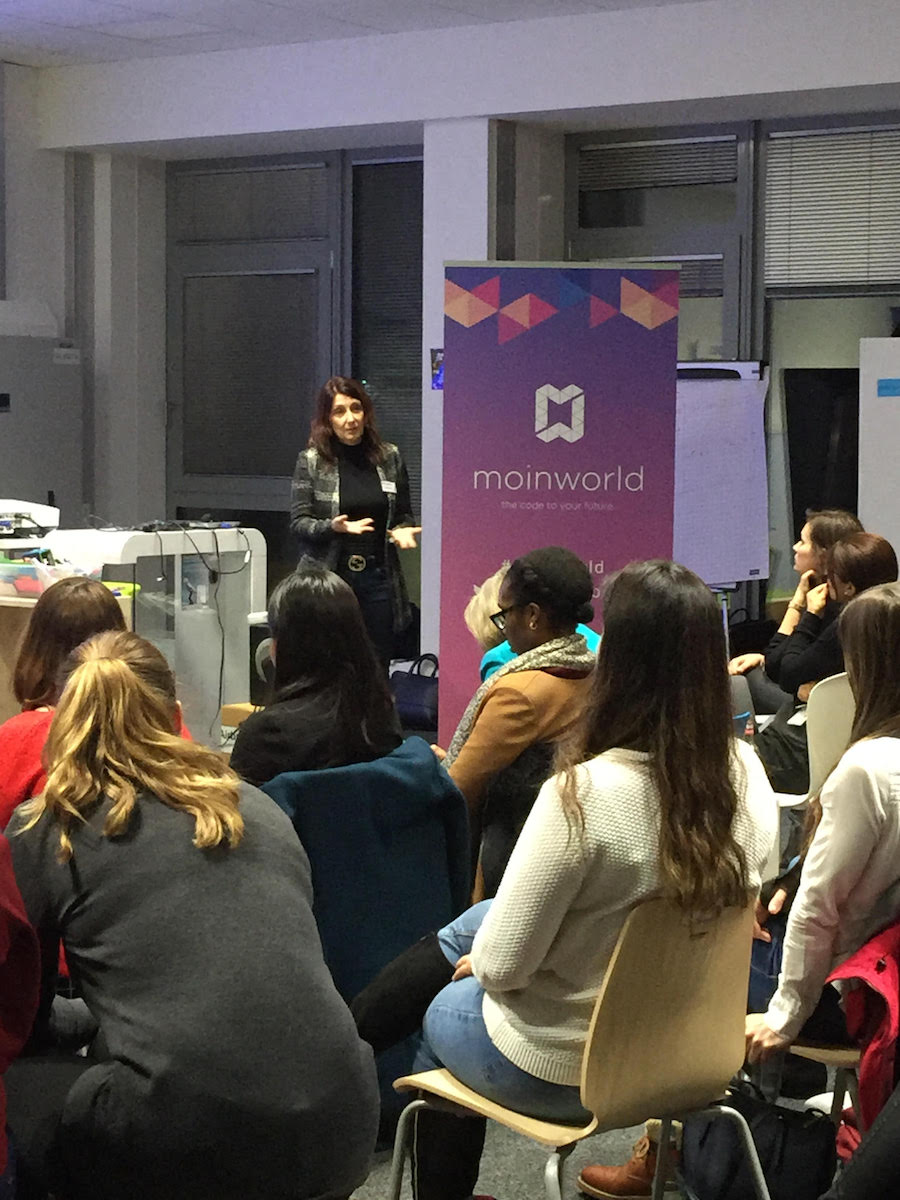 A future that is bright and full of opportunities
To outline Airbus' commitment to championing diversity at work, the Balance for Business Network was presented as an internal network that develops female candidates professionally and provides a platform for female colleagues to network with like-minded women. This network champion's Airbus overarching statement that empowering diversity leads to greater innovation and formed the perfect introduction to the end of our evening which we spent networking with Airbus colleagues and our wonderful Women Techmakers community.
As the first Industrial Digitalization Meet-Up, Airbus proved that the future is bright and full of opportunities that women should feel empowered to go for! We were all inspired by the career stories shared and as clearly demonstrated by the packed room, Airbus attracts a huge amount of interest as a leading name in the aeronautical industry. This meetup was a great opportunity to get a behind-the-scenes glimpse of the Proto Space, listen to the inspiring talks on Industrial Digitalisation from the Airbus experts and to raise awareness around opportunities that need you!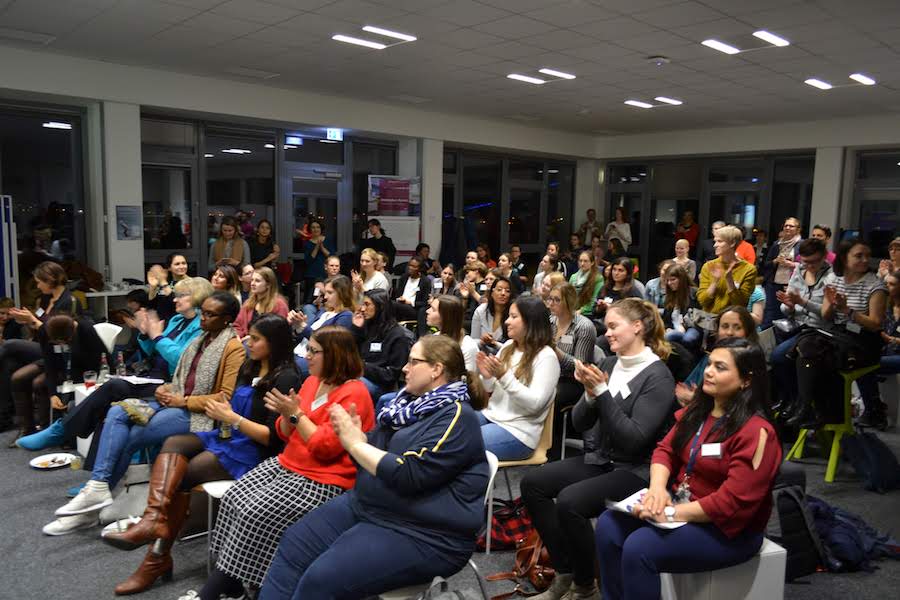 We are looking forward to our next event together with Airbus and we hope that you will be part of it!
To stay updated on our next Meetups and After-Work-Events see here.
Emily Cook.