April 27, 2020
This week, already our third virtual meetup took place. We talked about remote working or rather: Remote Management: Transitioning into online collaboration. Right from the start, it was nice to experience the sense of community, and we already started to chat while all the participants were joining. You could feel that this is missing at a time when we all sit in front of our computers, at home, and no small talk with colleagues is possible. Joavana talked shortly about the situation of New Work in these times: They are still hiring; they have still open positions – the Corona crisis doesn't affect New Work that much.
5 Things that are important for working remotely during the crisis
Martina Bräutigam is an agile project manager at New Work - she shared her tips with us on how to work remotely in this crisis. At the beginning, she emphasized on the difference between remote working and the experience we all are making right now: We experience this new way of work during a global crisis. Working under the current circumstances can be stressful, you have to take care of the kids and work at the same time, you can't go outside as much as you want, you can't see your family…
"Is it the remote working situation that is stressful for me?"or "Is it the current remote working situation due to the circumstances of the global crisis, which is stressful?"
Martina visualized her talk with her own personal box of five different objects that illustrated her main points.
1 Leave your comfort zone
Firstly, she showed us her red lazy pants. This should demonstrate: Leave your comfort zone. Get dressed up every morning before you start working. Feel comfortable but don't take your lazy pants on.
2 Routines help
The second object was her alarm clock. This symbolized 'routines'. On a work day, keep your routines while working from home: get dressed up, shower. Or even create new ones: make breakfast, make your bed. This helps you to be motivated to get your day started makes it easier to separate work hours from free time.Start and finish your working day properly. So, don't open the computer before you shower. Or set lunch dates for lunch break.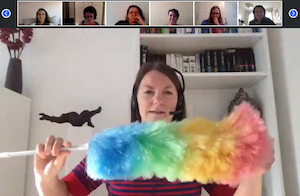 3 Clean up
Furthermore, Martina brought us a duster. Cleaning up is more important, because it is good to still separate work from your home environment. In the evening, she already sets up her work environment for the next day.
4 Get away from the Computer
The fourth object was a tennis shoe. She advised us to get away from the computer after a whole day in front of it. Go somewhere unrelated to your working environment. This is important for getting new impulses, new ideas, new perspectives.
5 Be transparent
The last object Martina showed us, was plastic wrap to symbolize transparency. Transparency is needed in these times even more, especially in regard to your colleagues. Concretely this means: a check- in and a check out. Have breaks in between where nobody can reach you. Say hi when you start your working day and say bye when you finish it. Share what you currently do with your colleagues. This increases trust.
Emergency remote work: make an opportunity out of it!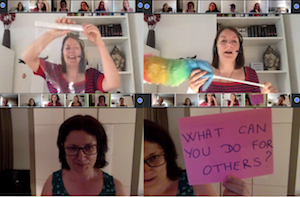 Roxana, also an agile project manager at New Work, highlighted the current situation in our second talk this evening: Emergency Remote Work. In her inspiring talk she asked how we can turn the situation into an opportunity. How can we come out of it better prepared for the future? What can you do for yourself?
Get inspired and learn with free content online
At the moment, there is a lot of great content from great speakers directly available to you for free. Do things that will help you in your future job. Get inspired. One of her tips was the remote tech week (see below in links). We can of course also recommend to join one of our programming classes to learn a new language.
Feed your soul: start a new hobby
She also emphasized though, that it is important to also feed your soul: Get a new hobby or do something you wanted to try for a long time. Roxanna shared that she started learning German more intensively again. Also a hint from us: Why not join our mentoring program?
A better "Me" creates a better "We"
She encouraged us to play an active role in setting up a good team culture. The culture of remote working does not appear magically overnight. Build it! Contribute! Try to put yourself in the shoes of others, for example in a meeting. Ask yourself whether you want the others to be late. So play your role and don't be late. Or when can people expect you to be online and available? They can't guess it. So, you have to tell them! You also want to know when others are available. Moreover, make people feel welcome the same way you want to be welcomed. Start the meeting with some smalltalk. Make the remote interaction easy and bring the team together!
While most of us are all the time in zoom meetings or skype conferences think about it: Do you really need a meeting for everything? Instead you could ask for ideas beforehand and only make the actual decision in the meeting. Be transparent and share information with everybody and not only with some people. Keep contact with people. Ask for coffee breaks. We need human interaction. And the important thing: Don't worry how you look! Turn on your video. The others won't care. Another important aspect is help. Offer help, no matter your role! And ask explicitly for help when you need it! The others won't know if you need it even though they want to help – especially now that we are all working remotely. Encourage others with your behavior to ask for help and thereby create an open environment. And her last piece of advice: Keep the team spirit up. There is no 'I' in 'team'. So, share a virtual pizza or cook together.
Our remote meetup was very fulfilling and it was great to experience a bit of community in these times. We enjoyed the networking and were happy that some of you shared their experience concerning the topic and gave their own tips. We are looking forward to our next meetup!
LINKS:
And here is a remote tech week: https://www.eventbrite.co.uk/e/futureworks-remote-tech-week-tickets-101522506550