June 2, 2021
ThoughWorks is partnering with moinworld to increase the number of women in technology and motivate girls for tech careers. Yesterday we met for our first joint Meetup with ThoughtWorks to discuss about how to influence Software Quality and Wellbeing. For everyone who could not join please read here what you have missed and please already mark your calendar for the next Meetup together with ThoughtWorks which will be happening September 16th.
Quality is not an act it's a habit by Jo Will and Shalini
This talk addressed the changing role of quality professionals and what role diverse teams play in delivering quality products. Jo and Shalini started off with the definition of quality and the fact that there is no agreement on what quality really is and that there are different sides to quality. Jo Will is Lead Consultant Quality Analyst at ThoughtWorks and Shalini Saini Senior Consultant Quality Analyst.
What happens what we don't have quality?
The launch of the Heathrow Terminal 5 with its baggage control system that failed on the first day of the launch and caused 42000 lost suitcases and more than 500 canceled flights or the Therac-25 was a computer-controlled radiation therapy machine in which patients were given massive overdoses of radiation and let to death of three patients because of programming errors are two of the examples Jo and Shalini mentioned in their talk. Therac-25 is an extreme example of what can go wrong with software systems, and the devastating consequences that bugs can have on regular people. Software errors can have a significant impact on users. Teams went through a long testing process but ignored practical cases, load tests under actual demand, did not communicate with other teams, did not test every bit of their code.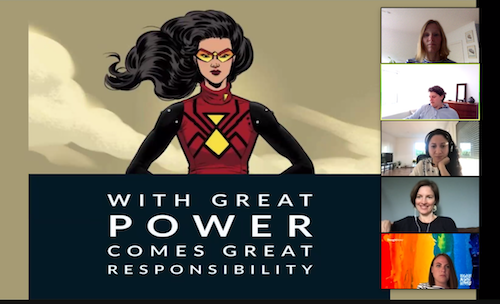 So how do we build quality in?
Looking at the history of software development we moved from predictive (we know exactly what the customer wants and how she is going to use our product for the next 3 years) to an adaptive process. With this development there was also a shift in the focus of quality teams in not finding defects but thinking about how issues can be prevented and how to get feedback from users as early as possible. With this development also came the practise of TDD (test driven development) which is mostly used in all projects at ThoughtWorks. This way writing tests is part of coding and the responsibility of the whole team which improves code quality and documentation and teams build quality in instead of testing in. Pair programming is an agile software development technique that is often used in addition and also an effective way to share knowledge and avoid coding mistakes.
We don't see things as they are - we see them as we are: How non-inclusive and diverse teams are producing non-quality products
If we look at the median employee age at the top tech companies and the inclusion of gender and race it is understandable how the following examples of non quality products can be developed. The question is what does a middle aged white man know about your life and how you are going to use the product he is developing.
Examples of non quality products a result of a lack in diversity and inclusion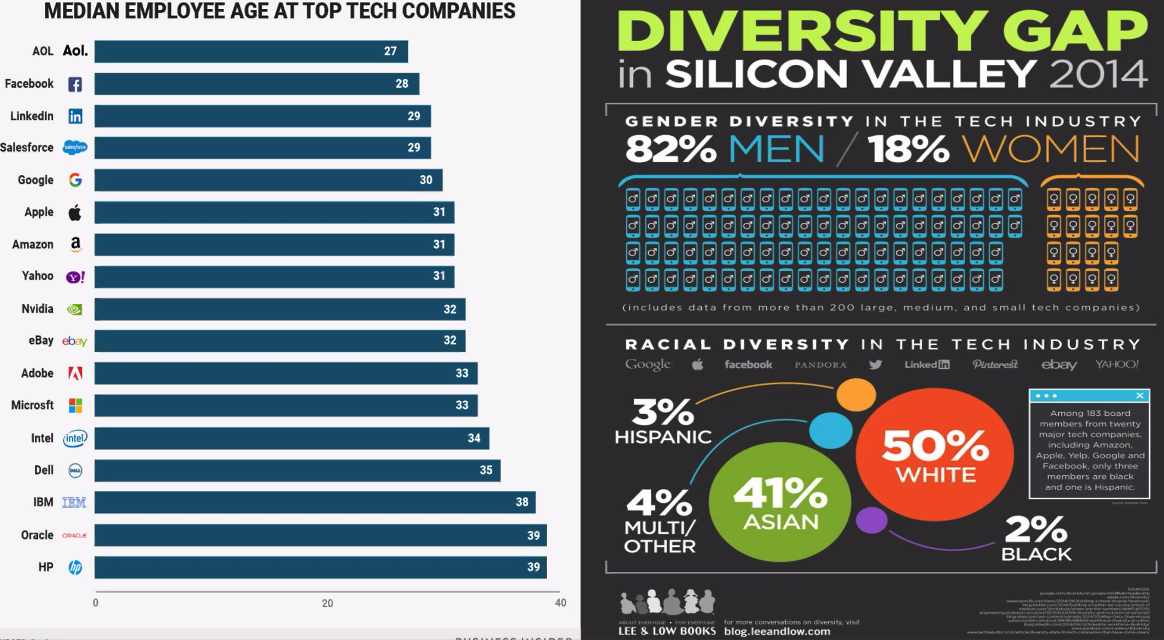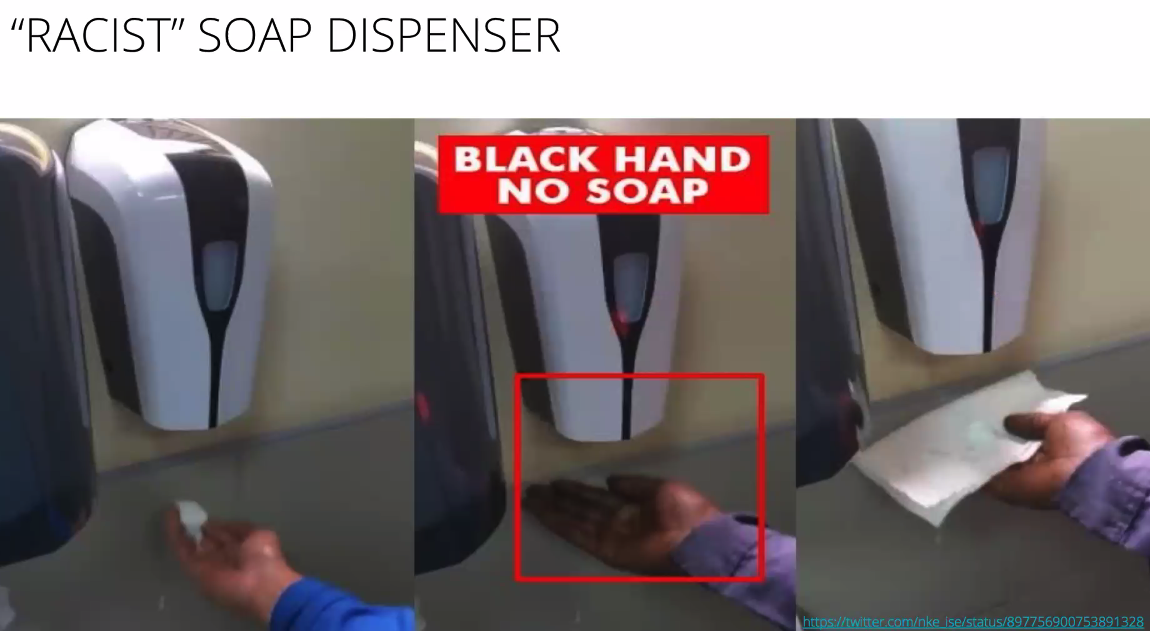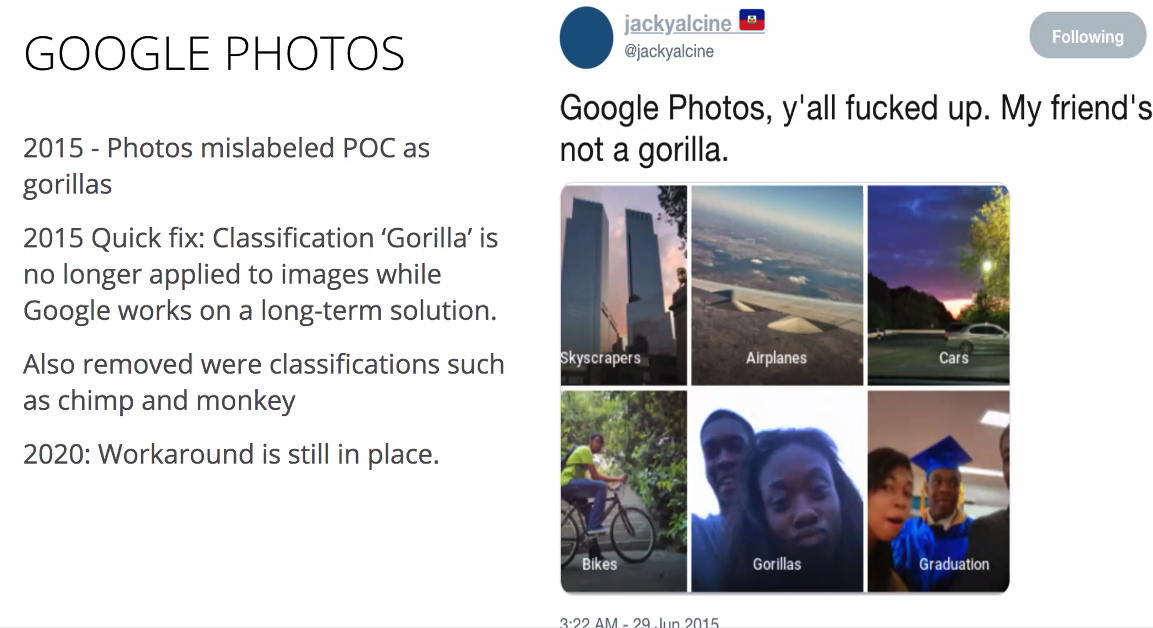 Accessibility does not only mean physically disabled people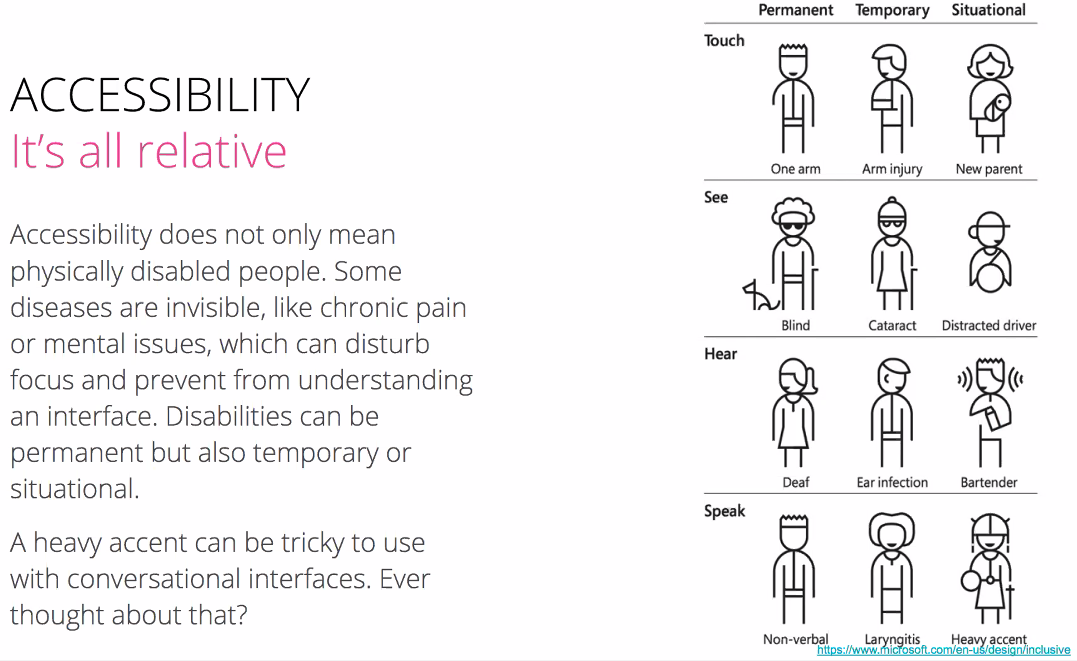 Edgecases are more common than you think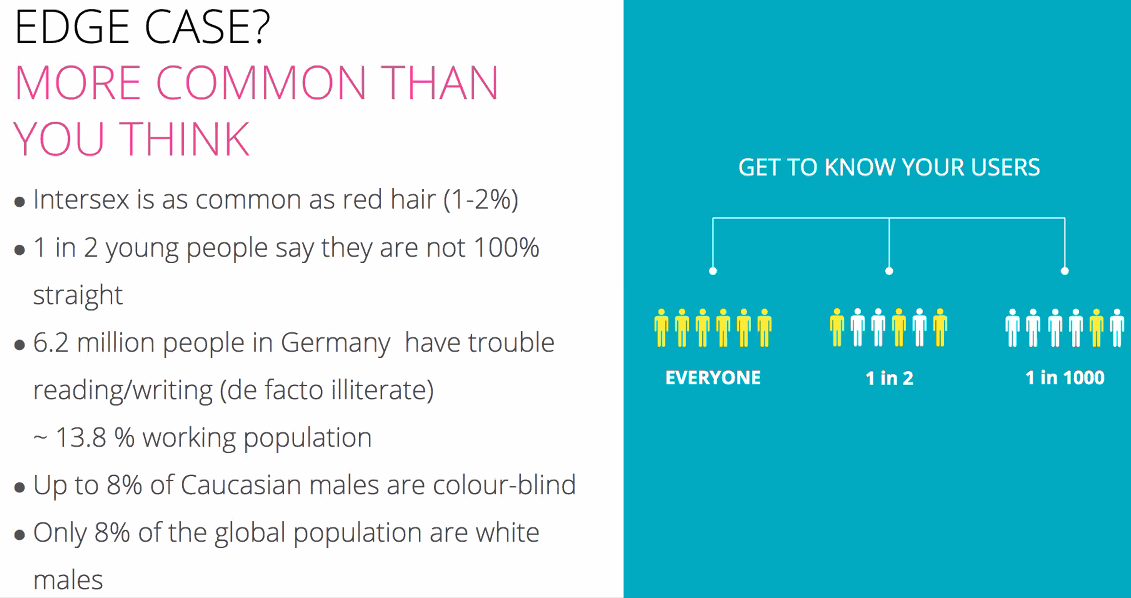 How to influence your pesonal wellbeing: Working healthily - Ways to increase productivity, lower stress and reduce pain by Judith Schmitz
In our second talk this evening we focused on our personal wellbeing. Sport scientist Judith, who is specialized in occupational health management and stress management shared some valuable tips with us as the time to take care of our wellbeing is now - we only have one body. She reminded us to take time to regenerate: to take breaks and to get enough sleep. To implement routines for mornings, for breaks, for end-of-work. To find focus and structure our environment. Even in the home office there are things we can do to work more ergonomically and last but not least also our diet and how much we drink plays a role.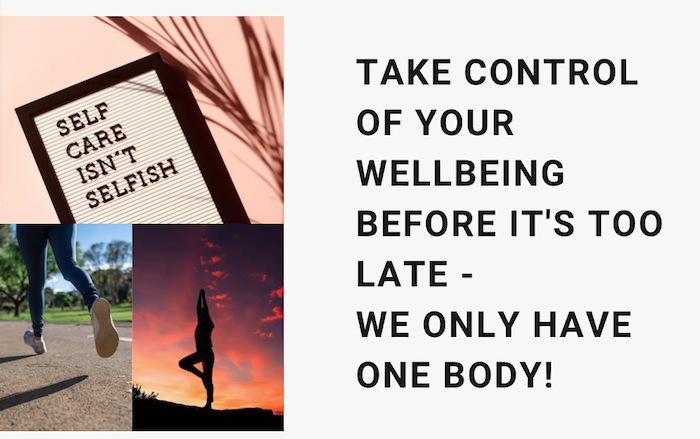 We are looking forward to our next meetup! If you are interested in our next events check out our events page!