April 17, 2018
My key takeaways
Moinworld's 2018 tech conference in Hamburg brought together experts from all over the world to discuss blockchain technology and to promote women in tech. As a founder and a woman working in media & tech, I have been attending conferences regularly for close to ten years now, and moinblockchain was my highlight for the first half of 2018. I was very fortunate not only to attend, but also to talk to some of the inspiring speakers. Moinblockchain is a tech conference with an international reach, and a particular focus on women and diversity. Each year, the founder of moinworld, Anja Schumann, aims to have an even split of minimum 50% women attending. There is also a high proportion of female speakers from every field, including business, tech, legal and design. Equal gender representation is sorely needed in the tech industry, where women are notoriously underrepresented. A 2016 study found that 25% of computing jobs in the USA were held by women, while a 2018 study found that only 15% of employees in STEM fields in the UK are female. However, there are signs that this is changing: information from the 8 largest tech companies has indicated that the number of women in tech positions is growing more than 200% faster than men. There can be no doubt that the work being done by moinworld, to empower women and to make tech conferences more welcoming and diverse, is needed and contributing to this change.
How blockchain will change the world
As a business owner, I wanted to attend the moinworld tech conference to find out more about how blockchain will shape our future, and about the applications of this technology beyond cryptocurrency. I was also keen to meet other women in the field, and moinblockchain offered exactly what I was looking for: an international network of women and men working in tech. I have recently opened up the German office of my business, welinku 21, in Hamburg, so it was an added bonus that this conference was right on my doorstep! I spoke to a number of experts at the conference; each had a passion for their particular subject, and for the work that moinworld is doing. Daria Suvorova, legal consultant at Blockbay GmbH and blockchain lead at moinworld, talked to me about the far-reaching potential uses of blockchain. "It's the next internet," she says. "I think it's going to change how humans interact. I'm a true believer in it and I see a lot of good that it can bring to society."
Rouven Heck, project lead for digital identity at ConsenSys, agrees that blockchain has countless applications for everyday life. Rouven works on creating digital identities that can be used for all sorts of online activities – logging in, sharing data – as well as replacing outdated methods for offline proof of identity. "We need to change the perception of what blockchain is," he says. "It's not just for asset transfer, it has so many more opportunities to solve problems."
Blockchain and diversity
UX researcher Linda N Lee believes that diversity is key to developing blockchain. Her work involves creating the back end for the cryptocurrency ZCash, with a view to helping people in nations that lack a stable currency. She agrees that moinworld's focus on diversity is critical. She says, "Trying to do something that's difficult without half the people is really hard," so "encouraging diversity encourages half the talent, all the women, to actually step forward and contribute."
Min-Si Wang, chief product officer at BitPesa, is also using blockchain and cryptocurrency in emerging markets. Currently BitPesa is working in sub-Saharan Africa to enable businesses to send payments in and out of the continent. Min-Si agrees that diversity in tech is extremely powerful: "Our company is 50% women, so we are very excited to be part of any kind of tech conference that focuses on women."
Beyond blockchain
Moinblockchain also attracts an audience beyond those who work in blockchain. Dr Frederike Ernst, COO of Gnosis and general secretary of the German Blockchain Association, thinks that this is important for the future of blockchain: "The way the moinworld organisers bring blockchain to a crowd that isn't necessarily from a blockchain background is wonderful." This ties in with her work in prediction markets, which use the wisdom of the crowd and incentivise knowledge-sharing in order to create extremely reliable forecasts for clients.
Finally, I interviewed Adi Scope, entrepreneur and co-founder of Fractal ICO Boutique. She spoke about how blockchain can create a new mindset for business owners and entrepreneurs, by moving away from centralised thinking towards collaboration, and perhaps a more 'feminine' attitude towards money. "We can shape a different kind of money," she says, "a money that is built around trust and doing good, not debt and greed. We can really shape the future of blockchain and our society."
The 2018 moinworld conference opened my eyes to the incredible disruptive power of blockchain and how we can use it, now, to create a new kind of future. I discovered that diversity is at the heart of this: not just in gender, but also in background and experience. Making blockchain accessible only to people in the industry could lead to stagnation, but bringing in people from different backgrounds and from all over the world will open up so many more possibilities.
The importance of moinblockchain
Throughout my years working in Asia, as a woman in media & tech, I have never felt as lonely as I did when I first started my company in Germany. As such, I feel it is of the utmost importance to work towards an inclusive ecosystem where workplace diversity is encouraged and women entrepreneurs can thrive, and conferences like moinblockchain are an essential part of this. According to Dell, women's entrepreneurship rates rose globally by 13 percent in 2017, reflecting a broader momentum of increased female representation across the public and private sectors in many regions around the world. But although the number of female founders may have risen, with currently one in three companies started by a woman, the entrepreneurial activity from an international perspective in Germany remains low, lower than in other parts of the world where I have lived and worked. Access to capital and technology, as well as cultural and political barriers, and the simple lack of visible female role models, continue to limit the success of women-owned businesses. To master the challenges of digitization and to better shape the digital future, women need to be involved more strongly in technology and entrepreneurial activities. To achieve this, I fully support the great work Anja does with moinworld in Germany, strengthening the interest of "Girls in Tech" and offering programming courses to encourage knowledge exchange and networking, and to teach and create exciting conversations. These schemes will help to make the tech world more inclusive, regardless of gender, age or background. I will definitely be attending more moinworld tech meetups and conferences in future.
Claudia Siregar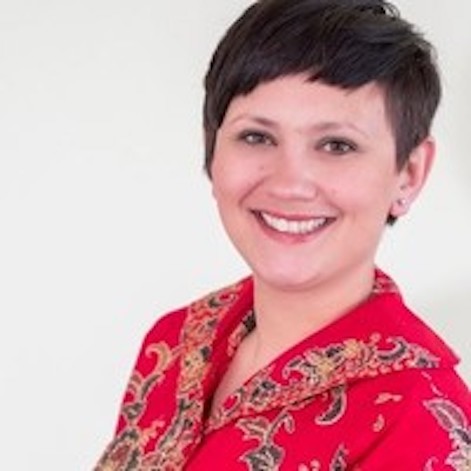 Claudia Siregar, German-grown with Indonesian roots, is co-owner of Asia´s leading go-to media platform for market research and consumer insights, Asia Research. Moreover, she is founder of welinku 21, a digital business consulting and services company, serving clients in Germany, Singapore, and Japan among others. Prior to starting her first company in Singapore, she worked for market research agencies and management consultancies in Germany, Indonesia, India, Singapore and the Philippines. Equipped with an M.A. in Southeast Asian Studies and Economics, paired with her interest in data, technology and media, she has lived and worked on four continents, and is fluent in four languages. Connect with her: LinkedIn, Twitter, Asia Research and welinku 21.
Sources:
2016 study: 2016 study
2018 PWC study 2018 study
Techinasia information
welinku 21 welinku 21
Dell Dell